How to launch a new car brand for Ukraine to a highly competitive market? What does it take to attract an audience, build an image and ensure a strong online presence?
In the case of MG motors, we will tell you how relevant content and well-chosen insights allowed the company to exceed the KPI and start a new page in MG's life in Ukraine.
Task
We had a task to create and implement a successful strategy to promote the brand on social networks. For MG, this is the second attempt to enter the Ukrainian market, this time in cooperation with Winner.
Background
Due to the high level of competition in the automotive market in Ukraine, the emergence of new brands is a difficult and complex task. Beginners have to form a brand image and build an audience from scratch. In our case, the situation was further complicated by the fact that MG had previously had an unsuccessful attempt to enter the Ukrainian market. Among the advantages - this time, the brand has a reliable partner - the Winner dealership centre.
Despite the many advantages of MG cars, including innovation, quality service, British design, and comfortable warranty conditions, the brand has certain barriers that deter Ukrainian consumers from buying. MG is a new player in the market, which due to the minimum of local content and information, may look foreign and unfamiliar to Ukrainian consumers.
Moreover, competition among manufacturers in the middle price segment is very high, and there is a widespread stereotype among potential customers about the unreliability of Chinese-made cars. Therefore, the brand's communication strategy should focus on highlighting the benefits of the brand and, at the same time, be clear and close to the audience.
Analysis
Creating a strategy for each company begins with comprehensive market research. We researched user segments, consumer needs, and competitor communication. And for the best results, we also researched the company's offices worldwide.
The first stage of research of potential customers allowed us to identify two large groups of consumers according to needs: replacing an old car and purchasing the first. Subsequently, we have divided these segments into consumers who are in need due to the pandemic, who are looking for affordable cars that need proven quality and safety for good money and stylish design.
For each audience, we researched barriers and benefits of buying and formed a brand positioning.
And, of course, the content and positioning of a new market representative should not resemble everything that competitors do. That's why we've reviewed hundreds of communication messages from other market players to find our unique style.
This helped to decide how to convey information to consumers and build MG's reputation in Ukraine.
Solution
To be different from competitors on social media, MG must create emotional content relevant to the audience's requests. Therefore, we decided that the focus of communications would be on history, "cool" content, and selling content. And for key messages, a friendly, understandable, and at the same time, informative way of communication is a must. And in appropriate circumstances, communication should be fun and informal. 4 main features of content for MG - creativity, personalization, illustration of values ​​, and psychological comfort.
How to reach a young, open to all new audience? Of course on "you"! In addition, the content should use elements of storytelling, gamification and engage readers in dialogue.
After all, MG is a brand that is allowed to experiment. At a time when competitors are generating dry and uninteresting content, we will use graphics, bright colors, and non-standard approaches.
Implementation
The structure of the main messages in MG communication should convey to consumers the values ​​and benefits of the brand while remaining simple, friendly, and understandable.
It is important that the texts not only describe the benefits but also convey the feelings of the MG driver and help to live this experience. The strong history of the brand with British roots seems to dictate to us that storytelling is a strong point in communication. At the same time, it is necessary to talk about the car line, service benefits, technologies, and create great content.
The most popular social networks among Ukrainians were chosen for promotion: Facebook and Instagram. Regular daily publications in an interactive format, challenges, CTA buttons, infographics, and questions allow you to diversify the news feed and attract audiences with different interests.
This is what the content on the official pages of the brand looked like: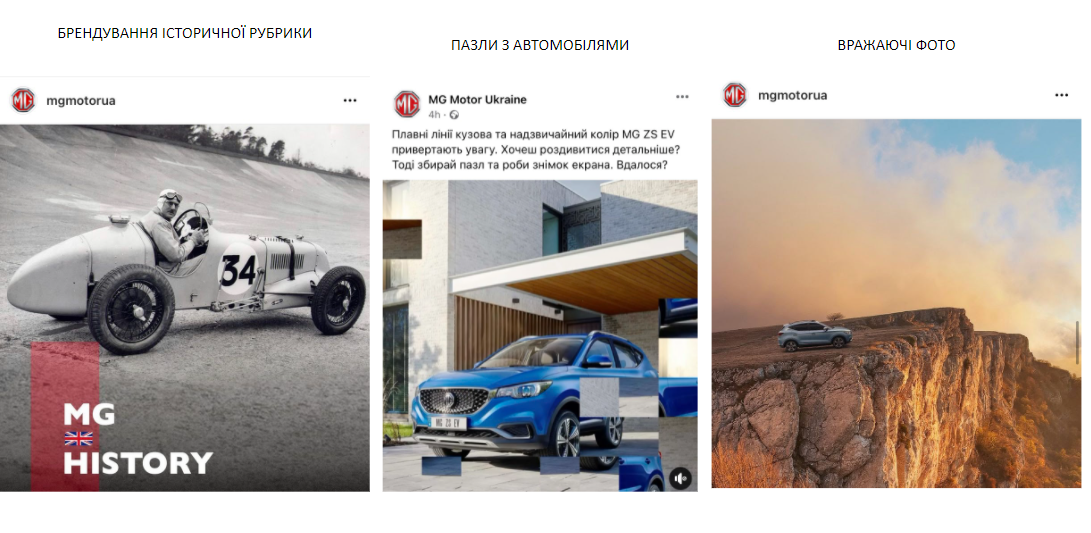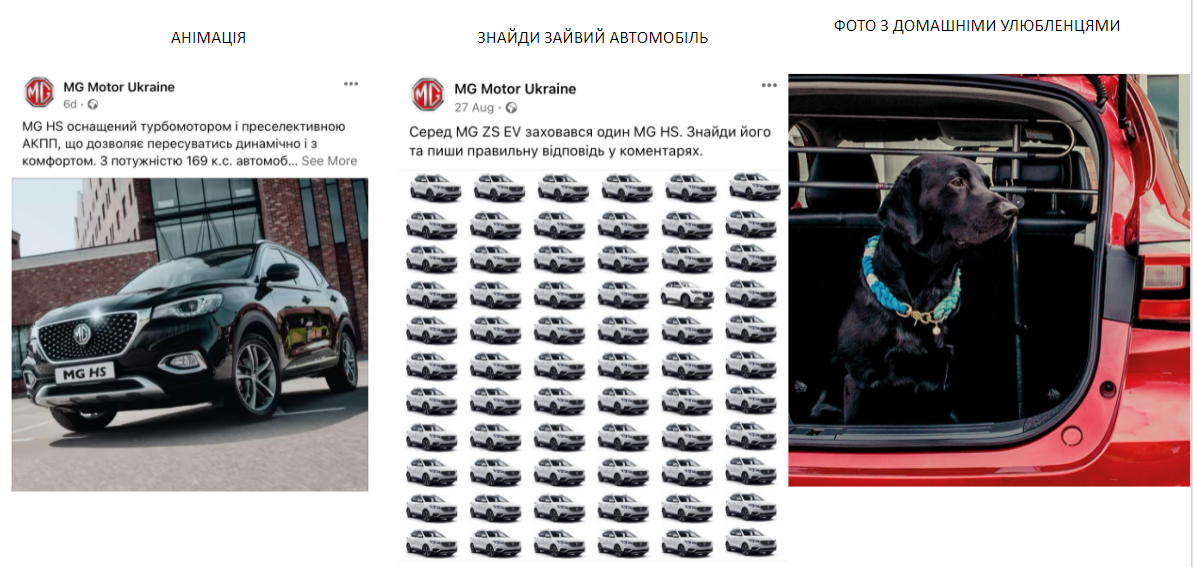 Diverse and interesting content allowed to significantly exceed the KPI and goals for several months after the launch of the new communication. As a result, we exceeded the coverage by 128% and traffic to the site by as much as 363% on Facebook. For Instagram, coverage and engagement rates exceeded 310% and 437%, respectively. Video creatives with zooming and animation collected the best indicator of attraction. We actively used them because they are more dynamic and attract users' attention while watching the tape.
Conclusions
Given that the MG brand was launching a whole new page of its life in Ukraine, we had a long and painstaking work to build a strong online presence. We tested hypotheses and followed the lean startup methodology – we collected user feedback and changed the approaches based on the results.
Thanks to interactive and interesting content, visual components, and promotional activities, MG managed to assert itself loudly and brightly.
Despite the difficult task, an extensive approach in creating an SMM strategy and testing hypotheses allowed us to exceed the KPI and achieve good results in the Ukrainian market. After all, to succeed, you must first understand the audience's needs and come up with solutions that will be close to them.
The head of the marketing department of Yedynka DGTL Dmytro Yaroshenko will tell little insights about cooperation:
Entering a new market is always a difficult task that requires hard work, analytical skills, and bright ideas. Especially if it's a second attempt, which must inevitably be successful.
For a quality start in digital, we have combined traditional marketing tools, exciting creativity, and a qualified promo strategy.
The Yedynka DGTL team has many years of successful experience in creating and implementing SMM strategies, especially in the automotive industry. This is confirmed by cooperation with major market players. Therefore, the choice of Winner was not accidental.
We identified and analyzed all possible competitors, discovered audience segments, worked out their drivers and barriers, and embodied this in a positioning that allowed us to stand out among other car brands.
Based on this, 15 SMM mechanics and special projects were developed, several dozen of creative ideas, 11 basic audiences for targeting, which allowed KPI's to exceed constantly.
During a consultation with Meta support, the company's digital marketers cited our client's Instagram profile as a role model.
All these components launched a bright start for MG in the domestic market, which will allow it to become a top-of-mind brand for many Ukrainians.
Contact us