Yedynka Rolls Out Y-CMS - A Lifesaver for Your Online Business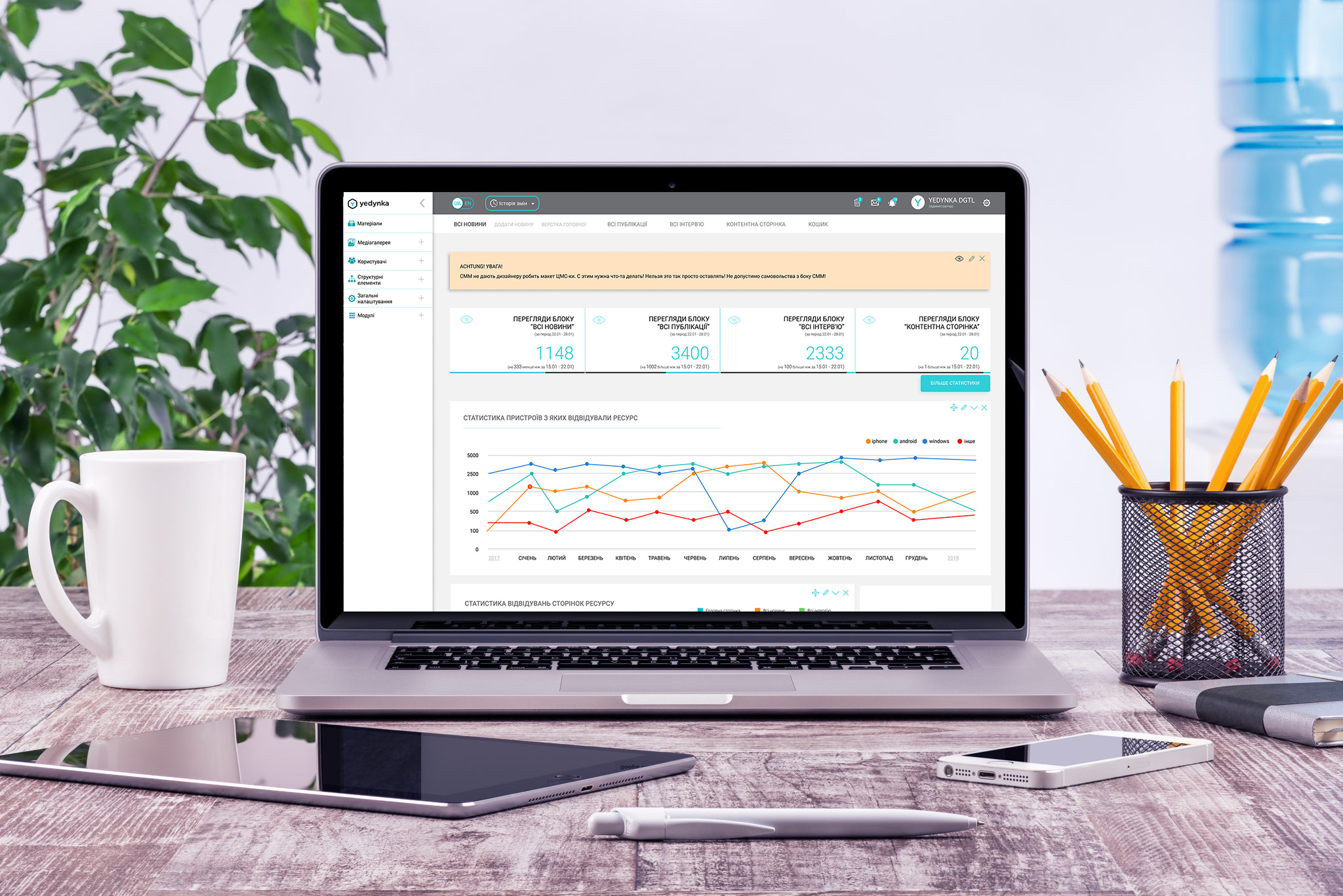 As an online media owner, you probably know that a proper content management system (CMS) is a fundamental piece of your business puzzle. Content plays a vital role in brand building and ensuring its strong digital presence. At Yedynka, we know that to boost the efficiency of your operations, you need a reliable CMS that will also be easy-to-use and navigate. That's why we built one for ourselves, and today, we're happy to share it with you.
Yedynka is rolling out our own Y-CMS that can become a lifesaver for your online business. Keep on reading to find out more.
Y-CMS in a nutshell
Y-CMS is a content management system that allows you to conveniently create, manage and maintain content on your website, along with its design and graphics. It was designed for complex online projects that experience heavy workloads and involve multiple people for content creation, editing and publishing.
The content management system can help you launch complex web/mobile products faster and more efficiently, thanks to:
Ease of use. User-friendly and intuitive, our CMS is easy to navigate - something you will cherish since you'll be using it every day, possibly even multiple times per day.
Fast data storage and editing. All your content will be stored in a single place. You'll be able to edit it directly on your live website and publish with one click.
Customization and flexibility. The content management system can be customized and expanded depending on your tasks and needs.
24/7 support. If you have any issues with the system, contact our support team anytime.
Modularity. You can choose only the required modules and won't have to pay for the unnecessary ones.
High performance. There is no unnecessary functionality in our CMS, so the system can handle heavy workloads, unlike WordPress, Drupal or Joomla!.
Working with any hosting. The hosting characteristics are dictated not by the needs of the CMS but by the needs of your site.
Not depending on our developers. We used the Yii 2 PHP framework to create Y-CMS, which makes it easier for your in-house team to adjust and support it.
Google PageSpeed optimization. We optimize your website for Google PageSpeed to make loads faster and ensure high search engine rankings.
Y-CMS functionality
We're particularly proud of our CMS's modules and components and can help you customize them to fit the needs of a specific business, website or editorial team. Let's take a closer look at each of them.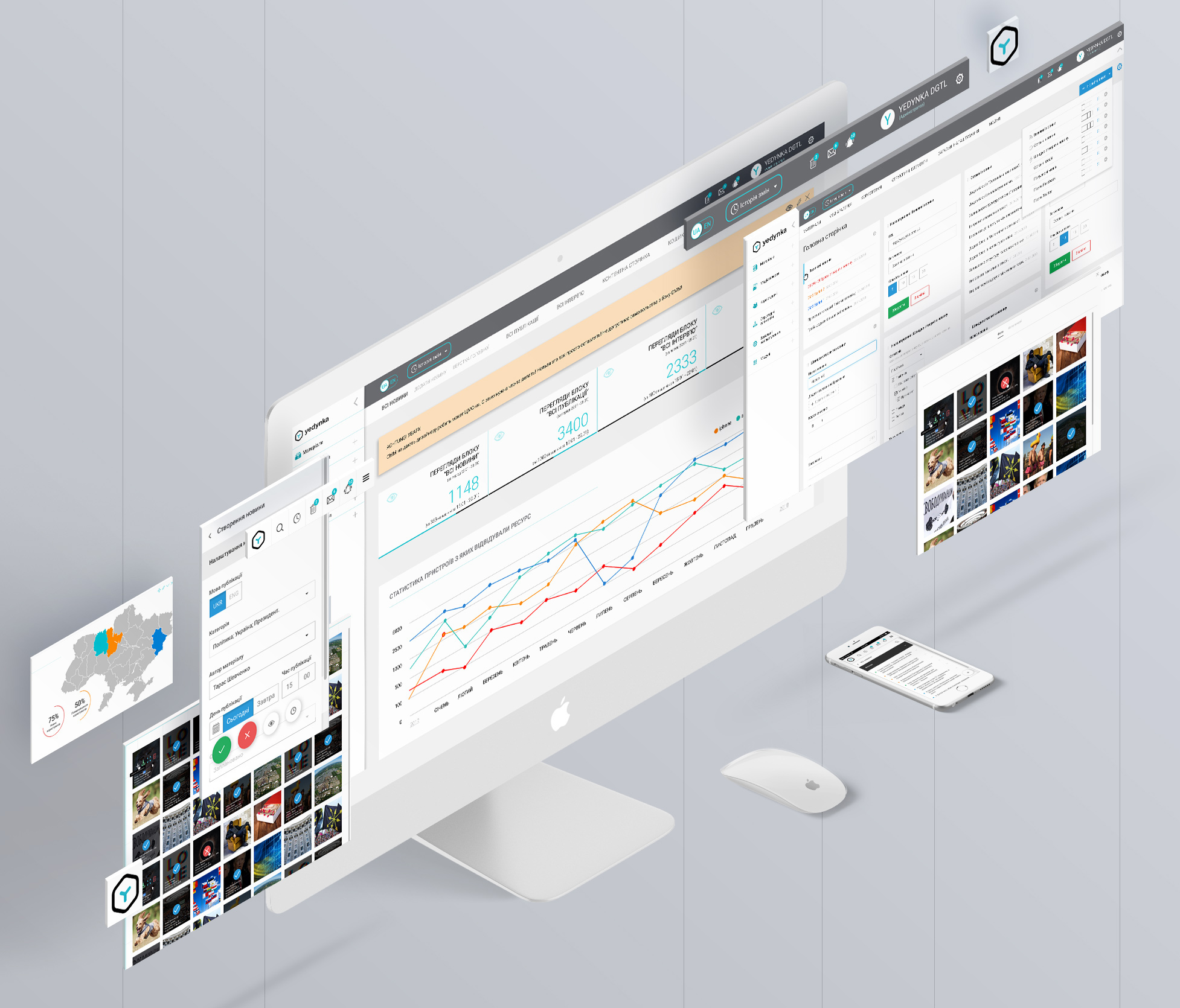 Modules
There are more than 15 customizable modules in Y-CMS. We'll cover some of them.
Multilingual support. The option allows adding several languages to the site. You can set a default language, activate or deactivate it or remove a language altogether. There's also a translation option.
Menu editor. With this module, you can manage menu items on the website and change their positions. You can create multiple menus, add arbitrary links, categories, record types and content pages to each menu. We've also incorporated an infinite nesting menu.
Tags. The module allows creating, editing and deleting tags for posts, merging tags and filtering them in alphabetic order.
Authors. When adding or editing a post, you'll see a drop-down list that allows selecting an author. The module allows adding, modifying, deleting authors and providing access to specific functions.
Sidebars. This module allows managing the blocks on the side panels. Each page can have its own sidebar, and the number is unlimited. Pre-configured blocks can be added to any location, repositioned and removed.
SEO settings. With this module, you can manage the basic SEO of your website. The module includes customization of meta titles, descriptions and keywords for all deliverables, categories, record types and tags.
Banner network. This is a module for managing banner codes on the website, with the ability to connect advertising scripts like Google AdWords, Admixer, Adriver and more.
Analytics. With this module, you can set up analytics codes such as Google Analytics, Google Tag Manager, Facebook Pixel, etc.
Form constructor. The module allows constructing various forms with different field types (text fields, drop-down lists, checkboxes, switches, hidden fields, file upload fields, form text areas, etc.). You can configure auto-replies, notify administrators when a form has been filled in and export data from the submitted forms.
RSS feed. With this module, you can customize the RSS feed on the site. It allows enabling and disabling particular types of posts, setting logos for RSS and more.
Components
The CMS can boast of convenient built-in components to manage the users of the administrative panel and their access levels, the media gallery with image cropper, etc. Let's explore them one by one.
Facebook instant articles. With this component, you can create fast and interactive articles on Facebook.
Related deliverables. This component allows adding related deliverables or custom links.
TinyMCE editor. This is a platform-independent JavaScript/HTML-based WYSIWYG editor.
Editing history. The component is designed to save every deliverable update with the ability to restore any version. You can specify the number of saved versions in the admin settings.
Whoa, that looks like a lot of functionality, and it's not even all of it. We've made sure that Y-CMS really covers all website content related needs.
Projects we created using Y-CMS
Before offering the CMS we developed to the public, we tested it on our projects. Here are some of them:
What are you waiting for?
Y-CMS is a powerful, productive, user-friendly and highly flexible solution tried and tested by our team. We've been enjoying its advantages for a long time now, and today, we are happy to introduce it to you. Drop us a line! We'll gladly provide you with all the information on Y-CMS and deliver the unique solution so that you could achieve your project goals and expand your business in no time.
Contact us